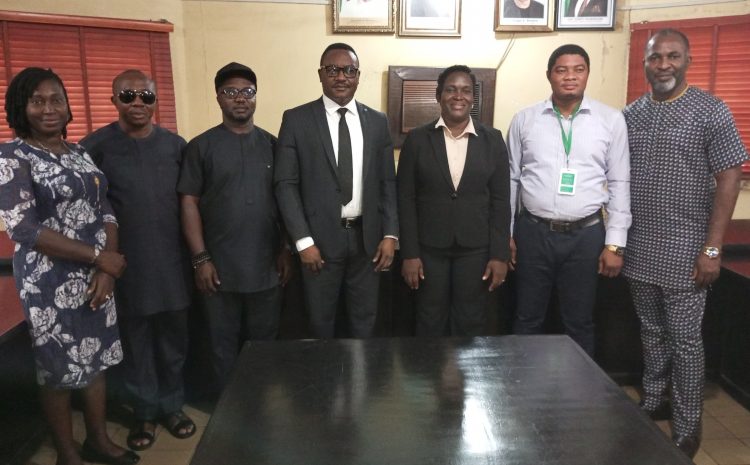 The Edo State Branch of the Nigeria Medical Association (NMA) has on 18th October, 2022 paid a courtesy visit to the Management of Federal Neuro-Psychiatric Hospital, Benin City. Present at the meeting were: Dr. I.O. Agbonile, Medical Director; Mr. L.E. Evbuomwan, Head of Accounts Department; Mrs. R. Igbinnosa, Acting Head of Audit Department; Mr. Stewart Efe, Head of Public Relations & Protocol Unit; Dr. (Mrs.) Imoisili Udoka, NMA Chairman Edo State Branch; Dr. Benson Okwara, NMA Deputy Chairman Edo State Branch, and Dr. Collins O. Otoikhila, NMA Secretary Edo State Branch.
In her address, Dr. (Mrs.) I. Udoka, the newly elected chairman of the association who was accompanied by other executives briefed the Medical Director and his Management Team that they were on a thank you visit to the Medical Director and the Medical Doctors in the hospital for their overwhelming support during the election that brought them into office. She however sought further collaboration for the new Exco and assured the Medical Director of the Exco's ability to deliver on their mandate. She stated that the NMA under her leadership was determined to prioritize the welfare of doctors in the state, noting that the massive exodus of medical doctors abroad with its brain-drain effect would be abated if their welfare is improved upon. Consequently, she appealed to the Medical Director to continue to improve on the welfare of doctors by providing them with call duty meal, comfortable working environment and leadership training.
While congratulating them for their victory at the polls, the Medical Director, Dr. I.O. Agbonile noted that it had been a long time that the NMA branch in Edo State had a woman as its leader. He thus expressed hope that the association would be impacted more positively under the current leadership. With regard to the chairman's appeal, the Medical Director stated that the hospital Management had always provided its doctors with call duty meals which had been monetized for them. He added that he had improved on the working conditions of doctors since he came on board as the Medical Director of the hospital. He further explained that prior to his assumption of office, some of the doctors did not have offices; hence he had to urgently complete the New Clinical Science Building to provide offices, including lounges for resident doctors and consultants. On leadership training, the Medical Director said that besides the leadership training which is embedded in their medical education; doctors should attend other management training with a good understanding of Public Services Rules. Dr. (Mrs.) I. Udoka thus applauded the Medical Director for having the welfare of doctors at heart and thanked him for the warm reception.
By Favour O. Usiobaifo